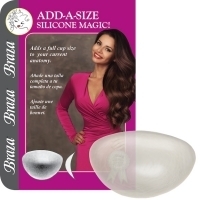 Silicone Bra Insert 1 Pr.
A beautiful discreet silicone enhancer that adds a full cup size.
This one 'size fits all' enhancer warms to your body temperature,looks & feels natural & you hardly know you're wearing them at all!
Great for swimwear or any occassion.
One Size Fits All. Colour Clear or Beige. 1 Pair Per Pack.